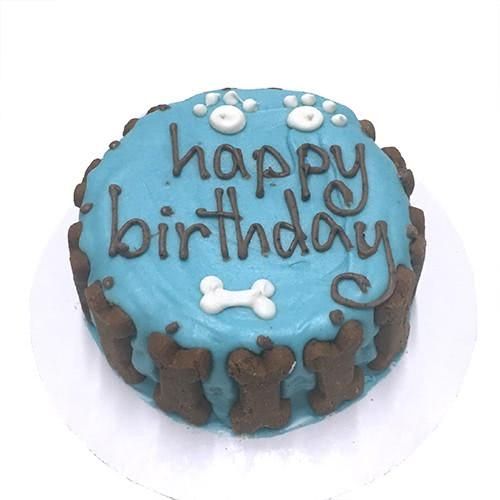 Bubba Rose Biscuit Co | Classic Birthday Cake (frozen)
These are soft, peanut butter carrot cakes decorated with a hard yogurt coating. These are perishable, moist, soft cakes (not stacked cookies) made with organic ingredients. They can be personalized at no additional charge.
A perfect treat for up to 4 medium-large dogs. Each cake come into its own windowed cake box with a storage sheet explaining how to keep it and what to do with the leftovers. Organic, USA sourced ingredients only. Baked fresh made to order. 
Cakes are 4.5" W x 2.25" H.
Ingredients

:
Organic carrots, organic oat flour, natural wildflower honey, all natural peanut butter, organic cage-free eggs, peanut oil, baking powder, cinnamon, pure vanilla extract, baking soda, carob and/or yogurt coating. 
Guaranteed analysis

:
crude protein (min.) 6%, crude fat (min.) 11%, crude fiber (max.) 4%, moisture (max.) 10% 
Storage:
If not fed the day the cake is received, keep it in the refrigerator for up to 2-3 days. If it is going to be served further out than that, put it in the freezer. They take about 2 hours to thaw (keep them wrapped while thawing). They can be portioned and frozen to enjoy later too!