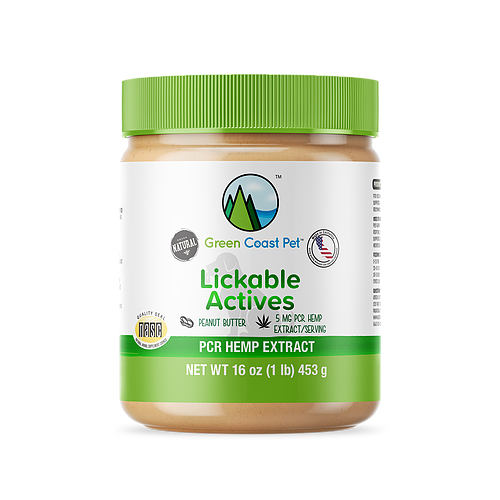 Green Coast Pet | eLICKser Hemp Peanut Butter
Green Coast Pet Lickable Actives functional peanut butter provides the perfect and most delicious way to deliver PCR Hemp extract to your dog.
This comes in a 16oz jar and can be up to a 1-month supply.

Our Lickable Actives- PCR Hemp contains only peanuts and PCR Hemp Extract. Each serving contains 5mg of PCR Hemp Extract. All of our hemp products are completely THC free.
This tasty formula is perfect at mealtime, in a stuffable toy, or just off of a spoon!
Made in California, USA.
5 mg PCR Hemp Extract per oz

80 mg PCR Hemp Extract per Jar

30 day supply for a 25 pound dog

Perfect for fillable toys, bones & dental chews

Made in California, USA
More Information:
Uses of Active Ingredients:

PCR Hemp Extract: Supports a calm & relaxed demeanor, supports a normal inflammatory response, supports a strong immune system, supports good neurological function
Directions for Use (Daily Recommendations)

5-25 lbs - 1/2oz (1 TBSP)
25-50 lbs - 1oz (2 TBSP)
50-75 lbs - 1 1/2oz (3 TBSP)
Over 75 lbs - 2oz (4 TBSP)