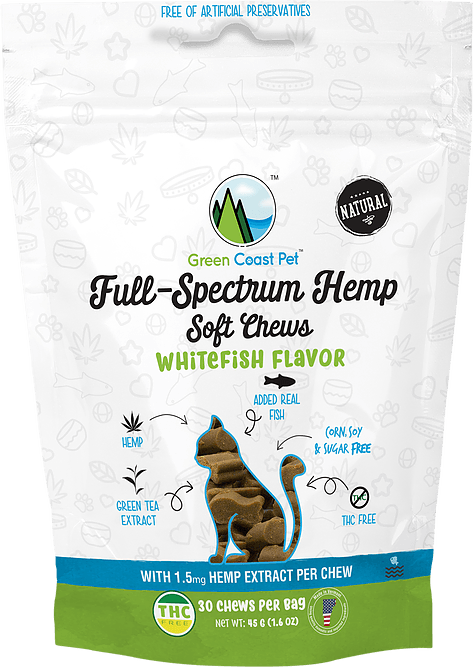 Green Coast Pet | Hemp Soft Chews for Cats
Green Coast Pets is proud to offer a product specifically formulated for your feline friend – Full-Spectrum Hemp Soft Chews in Whitefish Flavor! This hemp soft chews are a natural treat for your pet and are packed with cold-extruded ingredients. In other words, the active ingredients are raw and not cooked, meaning the nutrients are not exposed to heat which causes the breakdown of nutrients, like some other brands on the market.
Each chewy and flavor-packed concoction contains 1.5mg of Green Coast's full-spectrum hemp extract and 100mg of their patented proprietary hemp blend (Hemp Meal, Hemp Seed Oil, Hemp Extract), giving you and your pet the most bang/benefit per buck.
Medicinal Qualities of Green Coast Cat Chews: Green Coast Cat Chews active ingredients support good neurological functions while providing added benefits including, naturally boosting and supporting the immune system, assists in keeping inflammation at bay, and promotes a calm and relaxed demeanor in cats with anxiety.
Ingredients:
Active Ingredients per Chew: Proprietary Hemp Blend  100mg (Hemp meal, Hemp seed oil, Hemp extract).
Inactive Ingredients: Arabic gum, Brewers yeast, Buffered white distilled vinegar, Citric acid, Guar gum, Green tea extract, Natural mixed tocopherols, Rosemary extract, Silicon dioxide, Spearmint, Sunflower lecethin, Tetrasodium pyrophosphate, Vegetable glycerin, Vegetable oil, Whitefish hydrolysate.
Dosage Guidelines:
Up to 5 lbs – 1/2 Chew

Over 5 lbs – 1 Chew

30 Chews/Bag