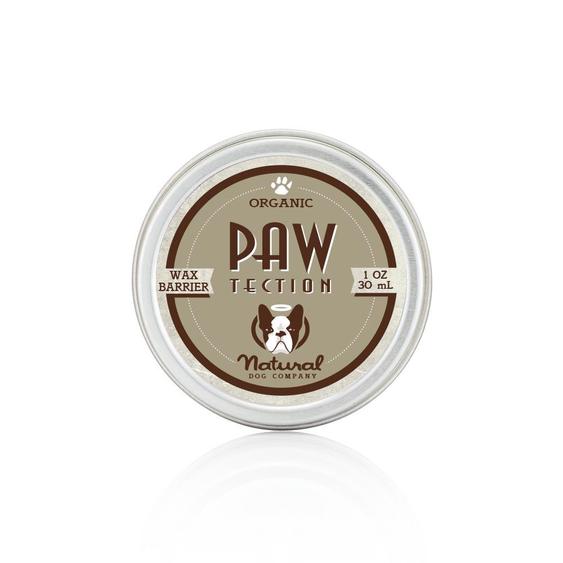 Natural Dog Company | PawTection Wax Barrier Tin 2 oz
Naturally protect your dogs paw pads with Pawtection. It's formulated using 100% natural and organic ingredients that work to help protect from ice, snow, salt, sand and hot surfaces. Perfect for active life, this balm is great for applying before going out in the elements.
It's easy to use, and can even help reduce the effect of contact with allergens including grass, pollen, & mold. Your pup was born with smooth pads that are great for walking in nature, but not on hot pavement or concrete. This balm provides a wax barrier to naturally protect. Below you will find a list of some ingredients found in this balm and the benefits they provide.
Featuring Organic Ingredients.
All Natural Formula.

Helps Protects Paws from Elements.
Ingredients:
Mango Butter | Rich in Vitamins A, C, & E to help combat free radicals that cause dryness & cracking in paws.
Rice Bran Oil | Natural antioxidant rich in minerals & vitamins to deeply penetrate skin's layer to nourish deep.
Lavender Essential Oil | Soothes discomfort, heals & fights against germs & bacteria & naturally eases anxiety & stress.
Ylang Ylang Essential Oil | Balances skin from becoming too dry or oily while soothing irritation.
Rosemary Extract | All-natural preservative & antioxidant with potent anti-inflammatory properties.

How to Apply:
Clean up any excess dirt or debris evident around the affected area. Twist a small amount of PawTection up from the stick and gently rub a generous amount onto the affected area. Allow the area to dry (a nice belly rub always does the trick!) and follow up with a treat or play time for a positive reward!
Apply anytime before going outside or before exposing your pup's paws to any potentially harmful condition.