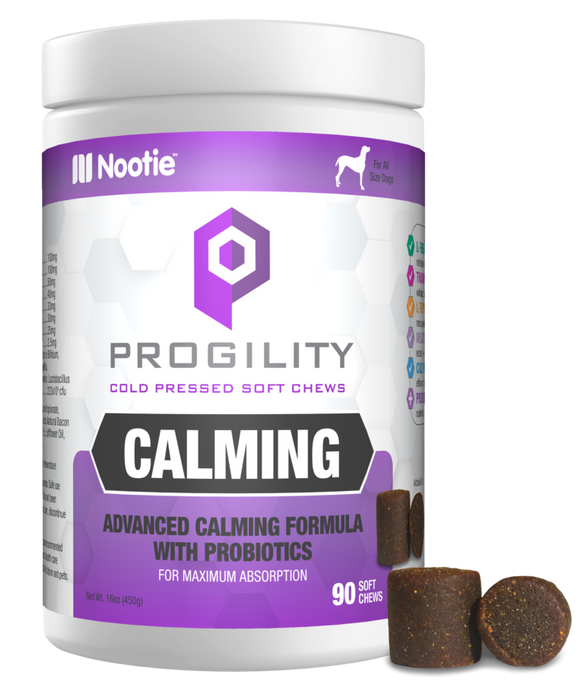 Nootie | Progility Calming Aid 90 ct
Product Description
Veterinarian Formulated Advanced Calming Formula with Probiotics for Maximum Absorption
KEY BENEFITS
  L-THEANINE is a natural plant-based amino acid found in green tea leaves that can help promote relaxation and lower stress.
  THIAMINE also known as vitamin B1 helps strengthen the immune system and aid the body to withstand stressful conditions.
  L-TRYPTOPHAN is a naturally occurring essential amino acid that helps enhance calming effects to reduce anxiety and stabilize mood.
  MELATONIN may help reduce stress for dogs suffering from noise phobias or separation anxiety, especially in unfamiliar surroundings or situations.
  COLD PRESSED is a modern production process that uses cold temperatures to retain the maximum efficacy of all the ingredients otherwise compromised by heat.
  PROBIOTICS help support digestive and immune health by aiding the body to properly absorb nutrients and active ingredients.
Directions For Daily or As Needed Use:
Up to 30 lbs…………………..1/2 Chew Daily
31 – 60 lbs……………………1 Chew Daily
61 – 90 lbs……………………2 Chews Daily
91 lbs & over…………………3 Chews Daily
For best results, allow 30 minutes for supplement to take effect.
Large Size Chew (90 Count)
Active Ingredients Per 1 Soft Chew:
L-Theanine…………………………………100mg
Thiamine……………………………………100mg
Passion Flower…………………………… 50mg
L-Tryptophan……………………………… 40mg
Ginger Root………………………………. .33mg
Colostrum…………………………………. 30mg
Valerian Root……………………………… 25mg
Melatonin………………………………….. 2.5mg
Probiotic Proprietary Blend of Bifidobacterium Bifidum, Bacillus Coagulans, Lactobacillus Acidophilus, Lactobacillus Casei, Lactobacillus Fermentum, Lactobacillus Plantarum and Lactobacillus Reuteri……………………………..223×106 cfu
Other Ingredients: Ascorbic Acid, Calcium Propionate, Cane Molasses, Cheese Powder, Glycerin, Lecithin, Natural Bacon Flavor, Purified Water, Rice Bran, Rice Flour, Safflower Oil, Sorbic Acid, Tapioca starch, Vitamin E.
Storage: Store in a cool dry place at room temperature.
Cautions: Administer after the animal has eaten. Safe use in pregnant, lactating, or breeding animals has not been evaluated. If new or worsening symptoms appear, discontinue use and contact your veterinarian.
Warnings: For animal use only. Do not exceed recommended dose. In case of accidental overdose, contact a health care professional immediately. Keep out of reach of children and pets.