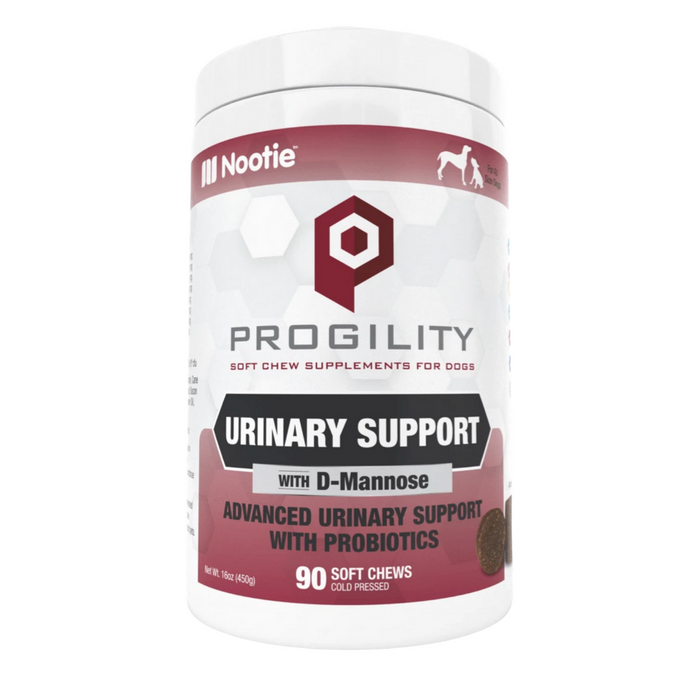 Nootie | Progility Cranberry Urinary Support Supplement 90 ct
Progility Urinary Support Soft Chew Supplements for Dogs
Veterinarian Formulated Advanced Urinary Support with Probiotics
Helps support and maintain healthy function of urinary tract. Includes vital D-Mannose to help prevent harmful urinary bacteria that can cause infections.
Key Benefits:
 D-Mannose helps support and maintain healthy function of the urinary tract. It safely binds with and eliminates bad bacteria from the urinary tract that most commonly causes infections.

Cranberry Seed Oil & Powder contains antioxidants and promotes urinary tract health.

Marshmallow Root helps lubricate, soothe, and coat internal bladder tissues and urinary tract lining. As a diuretic, it aids the body to flush excess fluid and cleanse the kidneys and bladder.

Organic Nettle Root is rich in gut-cleansing fiber and antioxidant chlorophyll. It is beneficial for dogs that are prone to chronic digestive disorders or urinary tract problems.

Organic Astragalus is natural herb that promotes immune boosting and anti-inflammatory effects.

Cold Pressed is a modern production process that uses cold temperatures to retain the maximum efficacy of all the active ingredients otherwise compromised by heat.

Probiotics help support digestive health by aiding the body to properly absorb nutrients and active ingredients.