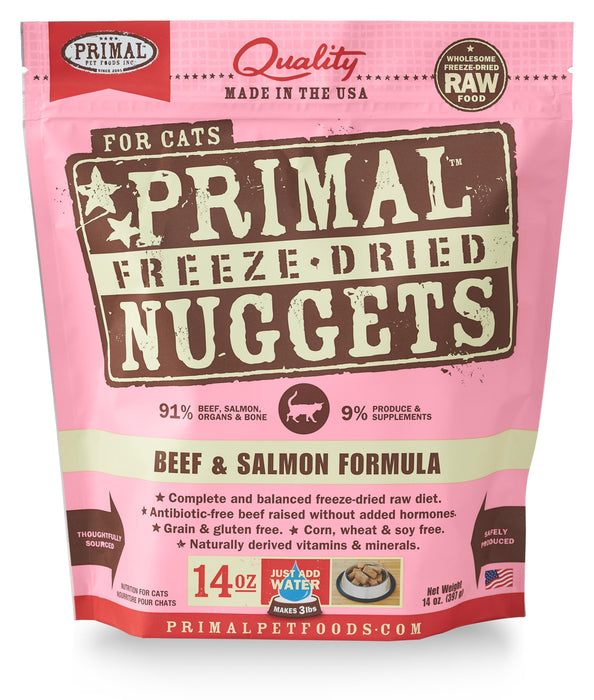 Primal | Beef & Salmon Freeze-Dried Cat Food 14 oz
Primal Pet Foods takes the time to sustainably source, carefully formulate and lovingly produce a nutritious, human-edible raw diet that is easy for you to serve and delectable for pets to devour. The proof is watching them lick the bowl clean and thrive!
Fresh beef & cold-water, wild-caught salmon for superior levels of amino and essential fatty acids.
Finely ground, fresh beef bones for optimum levels of calcium.
Organic produce for food-derived vitamins A, B-complex, C and D.
Cold-water salmon oil for essential Omega-3 fatty acids.
Organic and unrefined nutritional supplements for digestion and circulation.
Ingredients
Beef Hearts, Beef Livers, Ground Beef Bones, Salmon, Organic Kale, Organic Squash, Organic Carrots, Organic Apples, Organic Broccoli, Cranberries, Blueberries, Organic Pumpkin Seeds, Organic Sunflower Seeds, Montmorillonite Clay, Organic Apple Cider Vinegar, Organic Parsley, Salmon Oil, Taurine, Organic Coconut Oil, Cod Liver Oil, Organic Quinoa Sprout Powder, Dried Organic Kelp, Alfalfa, Vitamin E Supplement, Mixed Tocopherols (Natural Preservative).
Caloric Content
5,538 kcal/kg, 157 kcal/oz
Feeding Instructions
| Weight | Daily Feeding in Nuggets |
| --- | --- |
| 5-10 LBS | 2-4 |
| 10-15 LBS | 4-6 |
| 15-20 LBS | 6-8 |
| 20-25 LBS | 8-10 |
| 25-30 LBS | 10-12 |
| 30-35 LBS | 12-14 |
| 35 LBS & ABOVE | 14+ |
This Feeding Chart is based on 2.5% Weight Maintenance and formula rotation. Your cat's activity, age, metabolism and breed may affect overall feeding quantity.
Because of the importance of moisture in a raw diet, Primal recommends rehydrating this product with water or Primal Raw Goat Milk for optimum nutrition absorption. To rehydrate add 1 tablespoon of water or raw goat milk for every nugget, or 1/4 cup for 4 nuggets. For best rehydrating results, break nuggets into small pieces and mix thoroughly to force moisture into product.

Feed adult cats the equivalent of 2-3% of their body weight in rehydrated food per day.
Transition Instructions
Transition slowly. Begin by mixing 1/4 parts freeze-dried to 3/4 parts current diet. Gradually increase amount of freeze-dried daily.
Adult Cats: Divide total daily feeding portion into 2 meals.

Kittens and pregnant or lactating females: Divide total daily feeding portion into 3-4 meals.