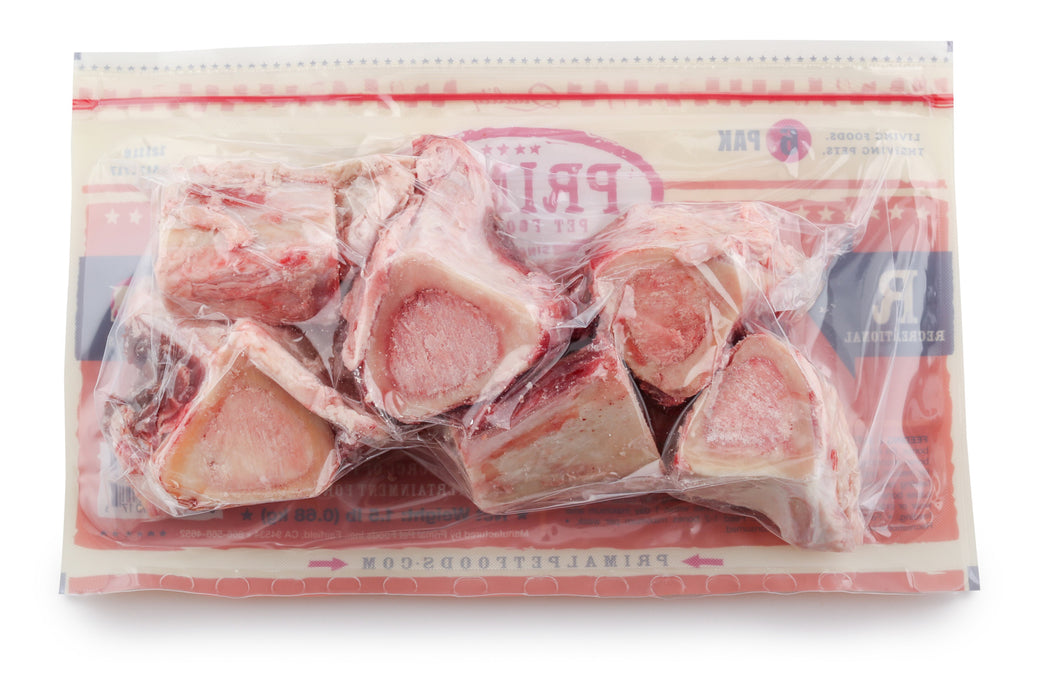 Primal | Frozen raw marrow bones - 6 ct
Dogs and cats have a set of solid molars and extremely strong jaws that enable them to crush and chew raw meaty bones such as necks, backs, wings, ribs and carcasses.
Recreational bones offer an excellent method for dogs to exercise their jaws, massage their gums and clean their teeth while consuming amino and essential fatty acids that promote a superior level of health. Primal recreational bones are NOT to be completely consumed and should always be fed under the supervision of a human being.
Beef raised in the United States without antibiotics or added hormones
Use for tooth and gum nourishment
Natural source of protein and fat
Raw entertainment for your pet
Ingredients
Beef Marrow Bone.
Guaranteed Analysis
Crude Protein (min) 12%
Crude Fat (min) 25%
Crude Fiber (max) 3%
Moisture (max) 26%
Beef Meat, Fat and Bone 100%
CA-to-P ratio n/a
Feeding Instructions
Recreational bones can be feed as a recreational treat up to two bones per week.
Always monitor your dog when feeding recreational bones.
Once completely cleaned, bones should be discarded within one to two days.
Recreational marrow bones are NOT to be completely consumed.