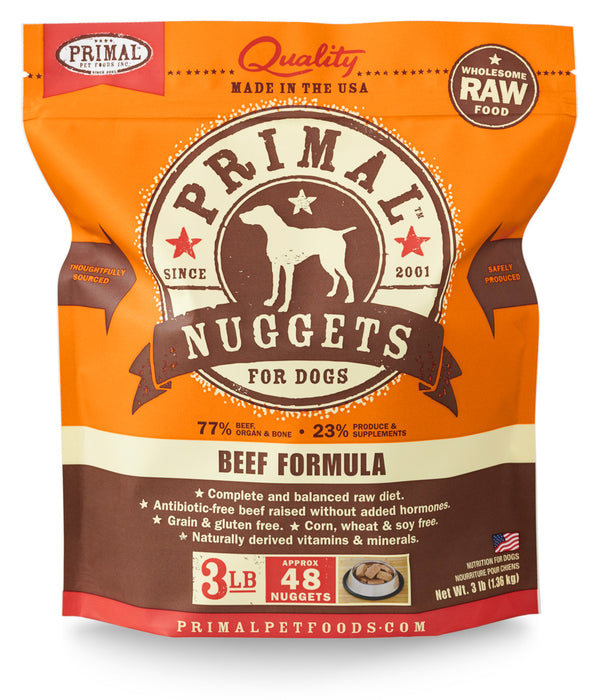 Primal | Frozen Raw Nuggets Beef Formula 3 lb
Primal Formulas offer the convenience and benefits of a well-balanced, safe and wholesome raw-food diet without having to grind, chop, measure or mix the ingredients yourself. Every product in the Primal Pet Foods lineup is produced using the highest quality ingredients. Primal uses antibiotic- and steroid-free USDA proteins without added hormones, certified organic produce and unrefined vitamins & minerals.
By offering your pet our raw food formulas, you're providing them with a diet that closely mimics their natural eating habits in the wild. Through the use of species appropriate, highly digestible food products, Primal Formulas offer a better way for dogs and cats to assimilate essential nutrients.
Ingredients:
Beef Hearts, Beef Livers, Ground Beef Bones, Organic Kale, Organic Carrots, Organic Squash, Organic Broccoli, Organic Apples, Organic Cranberries, Organic Blueberries, Organic Pumpkin Seeds, Organic Sunflower Seeds, Montmorillonite Clay, Organic Parsley, Organic Apple Cider Vinegar, Salmon Oil, Organic Coconut Oil, Organic Quinoa Sprout Powder, Dried Organic Kelp, Organic Ground Alfalfa, Vitamin E Supplement.
GUARANTEED ANALYSIS:
Crude Protein (min) 14%
Crude Fat (min) 14%
Crude Fiber (max) 1%
Moisture (max) 67%
Ash (max) 2.5%
ADDITIONAL PRODUCT INFORMATION
Beef: 77%
Organic Ingredients: 20%
Organ Meat: 7%
Produce & Supplements: 23%
Bone Content: 6%
CA-to-P ratio 1.47:1
NUTRITIONAL FACTS
Calories: 64 per oz.
Carbohydrates: 1.5%
Primal Pet Foods Raw Frozen Canine Beef Formula provides complete and balanced nutrition for all life stages and is comparable in nutritional adequacy to a product which has been substantiated using AAFCO feeding tests.