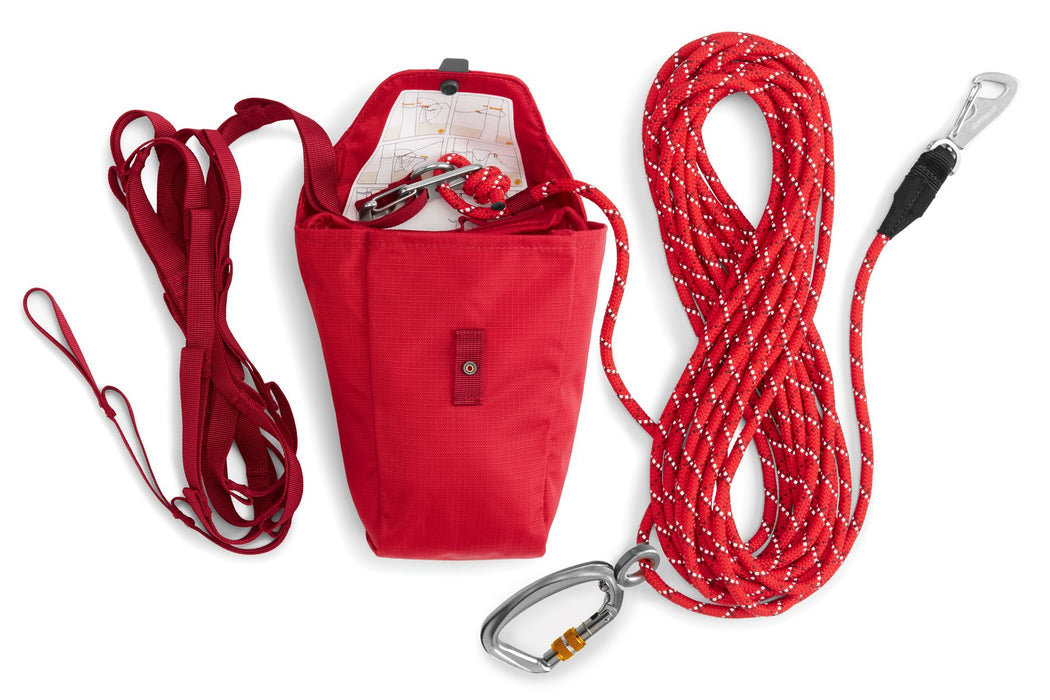 Ruffwear | Knot-a-Hitch System™ Red Currant
The Ruffwear Knot-a-Hitch™ is a campsite dog-hitching system using climbing-inspired components and hardware. Designed with car camping in mind, this comprehensive and intuitive system allows dogs to roam at camp while remaining on leash.
The Knot-a-Hitch includes a strong, kernmantle rope that can be set up between two trees or secured to a single post using Ruffwear-designed hardware and an easy-to-use tensioning system. Dogs can explore their new surroundings while their human performs camp duties such as setting up the tent, cooking dinner, or building a fire.
Length: 36 ft (12 m)
Stow Bag: 6 in x 7 in x 2 in (16 cm x 18.5 cm x 5 cm)
FEATURES
Hitching system for allowing dogs to roam while remaining on leash.

Can be can secured around two trees or a single post.

Strong, supple, reflective kernmantle rope.

Quick set up with easy-to-use tensioning system inspired by auto-lock techniques used by rock climbers.

Swiveling carabiner keeps leash twist- and tangle-free, and securely attached to the line.

Ruffwear-designed hardware.

Convenient and durable stow bag contains rope tail ends while storm flap keeps elements out.

Made in Vietnam.
WASHING INSTRUCTIONS
Hand wash.

Mild detergent.

Air dry.