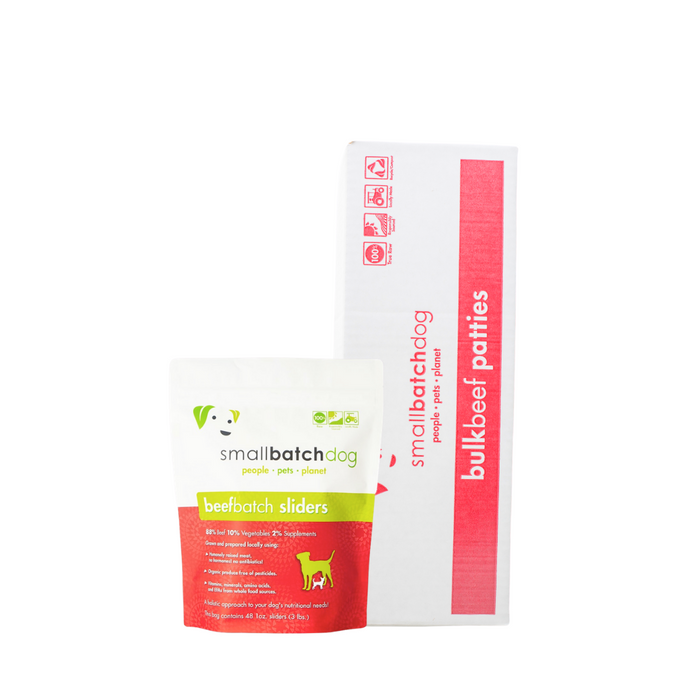 Small Batch | Frozen Beef Batch Raw Dog Food
Additionally, we strive to only use meats that are free-range, pasture raised and always free of hormones and antibiotics.
Our produce is 100% certified Organic and our supplements are always pure, organic, and unrefined. No HPP (high pressure pasteurization) always 100% raw, the way nature intended.
Ingredients:
88% beef, 10% produce, 2% supplements,

beef hearts, beef livers, beef kidneys, beef, beef bone, organic carrots, organic yams, organic broccoli, organic squash, salmon oil, organic kale, organic collards, organic apple cider vinegar, organic kelp, organic bee pollen, organic parsley, organic wheatgrass, organic bilberry, organic garlic, organic rosemary, organic basil
Guaranteed Analysis:
Moisture (max): 71.7%
Crude Protein (min):13.9%
Crude Fat (min): 8.6%
Crude Fiber (max): 0.6%
Ash (max): 2.4%
Calcium (min):0.8%
Phosphorus (min): 0.5%
Approx. 42 kcal per slider
Approx. 336 kcal per patty