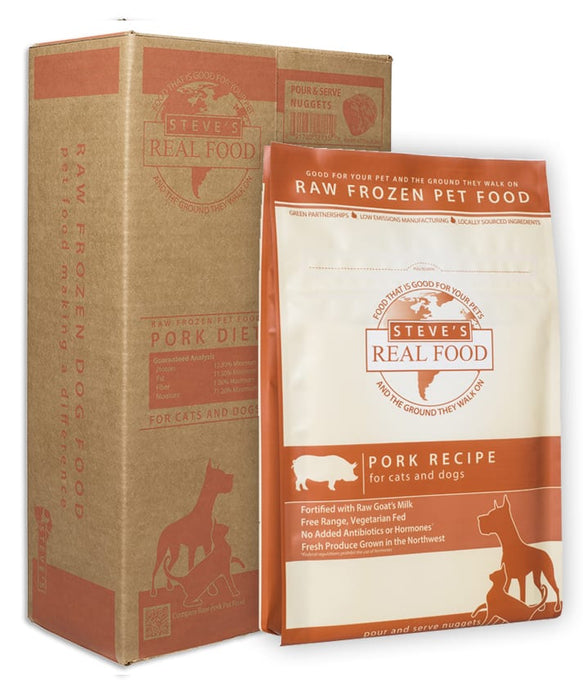 Steve's Real Food | Pork Diet Raw Frozen Food for Dogs & Cats
Steve's Real Food's Pork Diet is unique cooling food that is great for pets with allergies.  Additionally, our Pork Diet contains chia seeds, which boost its cooling properties and is great for detoxing.
One of the differences between Steve's and other raw meat diets is our meat-to-veggie ratio of 80% to 20%. This provides your pet with the protein and essential vitamins and minerals that help fight disease and promote strong bones, muscles, and organ function.
Ingredients
Pork, Pork Heart, Pork Liver, Carrots, Kale, Pork Neck Bone, Broccoli,  Goat Milk, Chia Seed, Flaxseed, Kelp, Salmon Oil, Taurine, Green Lipped Mussel, Inulin, Coconut Oil, Sesame Seeds, Ground Membrane
Nutritional Fast Facts
Calories: 1552 per kg (44 per oz)
Calcium to Phosphate: 1.5:1
B.A.R.F Formulation
80% Meat/Organ/Bone 20% Produce
Carbohydrates: 1.2%
PH Level: 7 S.U.
Guaranteed Analysis
Protein: 14.4%
Fat: 10.0%
Fiber: 0.5%
Moisture: 70.9%