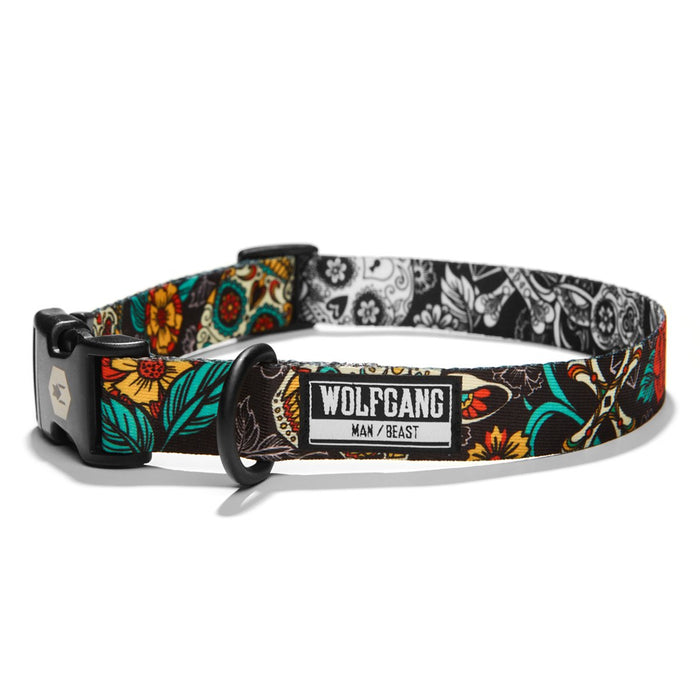 Wolfgang Man & Beast | LosMuertos Dog Collar
As a celebration of the spiritual journey of our beloved pets who have passed before us, this fully original print puts a four-legged twist on a Latin-American classic and simultaneously makes for some really cool art.
NOTE: Side-A DOES NOT MATCH Side-B. Side-A is full-color version of Dia de los Muertos inspired dog skulls and paws, while Side-B is a black-and-white version of the same. However, on harnesses, Side-A is on the outside and Side-B is only visible on the inside. If you're wondering why we would do that, check out the matching leash where both sides are visible with amazing results.
Size 
Small: 5/8 inch wide, 8 to 12 inches long
Medium: 1 inch wide, 12 to 18 inches long
Large: 1 inch wide, 18 to 26 inches long
About this item
COMFORTABLE & STYLISH: Designed with your dog's comfort and style in mind, our world-class products bring dynamic style to your pet's number one accessory.

DURABLE: Made with highly durable, abrasion-resistant polyester webbing to ensure durability with curved nylon buckles. All ends are hot-cut to prevent fraying.

EASY TO CLEAN: Dish soap and warm water make for a quick and thorough wash. Waterproof and mildew resistant to minimize stink. Limited lifetime warranty covers manufacturing and material defects.

BUILT TOUGH: Pull tested to over 800-lbs. For use with large and small dogs. UV/stain resistant with a powder-coated, heavy-duty steel d-ring with welded seam for guaranteed leash clip reliability.

HELPING DOGS: Every purchase gives back! We work with the best give-back programs to make dogs and people happy!